Absolutely, cocoa butter is both dairy-free and vegan! Many people in the vegan communities and dairy-free feel that cocoa butter includes milk. But this is not true. Cocoa butter is the fat part of the cocoa bean.
It is a fully vegetarian fat source. This fat is solely responsible for the divine, silky texture of chocolate. This finishing is basically cocoa butter. With a little remix with cocoa solids such as cocoa powder.
What exactly is cocoa butter?
For millennia, humans have eaten dishes and drinks formed with cocoa beans. They did this both for pleasure and for their possible therapeutic qualities.
Cocoa butter is an edible light yellow fat derived from cocoa beans. It is solid at ambient temperature. And it also readily melts when applied to the skin. This makes it a common component in skin ointments.
This fat has a strong cocoa taste. So it is one of the three primary components of chocolate.
Cocoa butter is made by fermenting, drying, and roasting newly picked cocoa beans. Their oil is removed and used to create cocoa butter. All while the leftovers are used to make cocoa powder.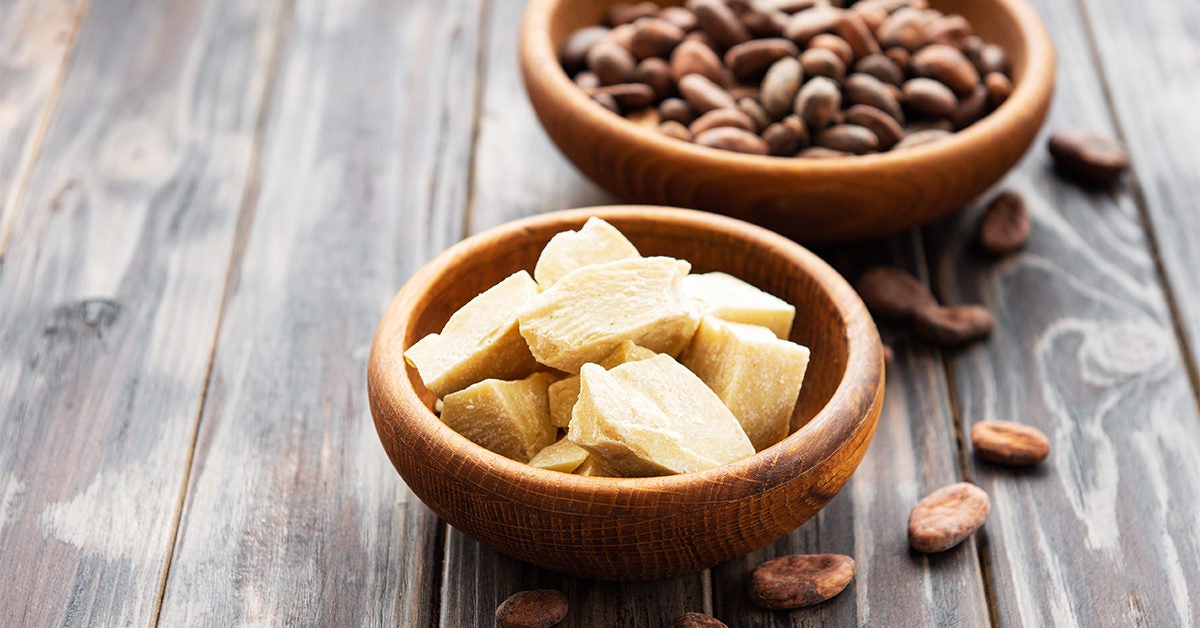 Is Vegan Cocoa Butter available? 
Yes, we can say confidently that cocoa butter is completely vegan. The butter is made from the cacao bean. It is a seed collected from the cacao plant. It is soft, milky, semi-solid that tastes like chocolate. But includes no dairy ingredients.
If you are a vegan, cocoa butter is completely acceptable to consume. Or you can use it as a skin cream. Apart from the wonderful taste, there are many cocoa butter advantages!).
Vegan cocoa butter, on the other hand, is often utilized as an ingredient for non-vegan goods. Chocolate is the big culprit, but there are other things as well! So, always be cautious and read the label.
Is there gluten in Cocoa Butter?
Gluten is a protein present in grains including rye, barley, and wheat. As a result, cocoa butter is gluten-free by nature.
However, certain cocoa butter-containing goods may contain gluten. Or they may have come into touch with this protein during production.
Crunchy chocolate bars or sweets, for instance, are often produced by mixing chocolate with gluten-containing substances. Things like wheat or barley malt.
Furthermore, chocolate is often used to coat baked products. Specifically, those produced with gluten-containing flours. Examples of such flours are rye, barley, wheat, triticale, and spelling.
There is one simplest method to determine if a cocoa butter food has gluten. All you need to do is to look at the nutrition label. It will also tell you if it has come into touch with gluten.
Is Vegan Cocoa Powder available?
So, cocoa butter is vegan but chocolate isn't. You may be asking where cocoa powder fits in?
Cocoa powder is important for making strong cocoa beverages or baking. It is vegan in its raw form. Cocoa powder, like cocoa butter, is derived from cocoa beans. The powder is made when the butter is removed from the bean. It is then dried and roasted.
The beans are then crushed into cocoa powder. which is completely vegan at this stage. Carefully inspect the package when purchasing cocoa powder at a shop. Cocoa powder, for example, may include non-vegan ingredients.
Be very cautious while purchasing hot chocolate powder. It is typically combined with milk powder or other dairy products. So it may not be appropriate for a vegan diet!
Can vegans consume cocoa butter or goods derived from it?
Veganism is a way of life that seeks to eliminate all kinds of animal exploitation and suffering. As a result, a vegan diet eliminates any animal-derived foods. They include meat, honey, eggs, fish, dairy, and so on.
Cocoa butter is entirely derived from a plant.
As a result, it is vegan in its natural state. However, not all meals that include this component are appropriate for vegans.
Is there dairy or other animal-derived components in cocoa butter?
Cocoa butter is often mixed with dairy to create milky or white chocolate.
To make dark chocolate, combine cocoa butter, cocoa liquor, and sugar. Most dark chocolates are dairy-free. This makes them an acceptable treat for vegans.
Milky or white chocolates, on the other hand, need the addition of condensed or powdered milk. This makes both of these cocoa-butter-derived goods unsuitable for vegans.
Cocoa butter is often mixed with other substances. Things such as eggs, honey, or gelatin, in addition to dairy. Many chocolate bars, baked pastries, and chocolate-covered sweets fall under this category.
Check the label for added items. These items are eggs, whey, honey, dairy, gelatin, casein, lactose, etc. In addition, carmine, cochineal, and animal-derived vitamin D3 or omega-3 fatty acids. This will help you determine if a cocoa-butter-derived item is vegan.